Meet the Helmut team at IBC2023!
As a full-service provider in the field of post-production, MoovIT always thinks in terms of workflows. In particular, the team focuses on finding ways to integrate new solutions into the customer's existing infrastructure, while also providing advice on hardware, software and support-related topics – always with the customer's specific needs in mind. Accordingly, MoovIT offers flexible rental and purchase options for its systems and solutions, whether they are delivered via on-premises, SaaS or cloud-based models.
Three of MoovIT's own software products will be in focus at this year's IBC: the project management software Helmut, the Vulcano graphics automation tool, and the TitleTool video localisation solution. This spectrum includes solutions for optimising video production, graphics creation and editing, as well as for adapting video content for international use.
Helmut project management software
The enterprise version of the project management software Helmut4 – with the components FX, IO, Cosmo and Housekeeper for efficient administration, backup and control of editing projects in professional Adobe video production environments – is already well established. Recently, MoovIT unveiled HelmutTEAM, a standard product package including all Helmut components, offered on a licence basis for up to 20 users. This solution is aimed at small and mid-sized producers, who can leverage HelmutTEAM to work with the same efficiency and effectiveness as larger players – particularly in remote or network-based workflows.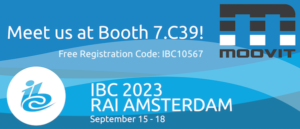 Meet the Helmut Team at IBC2022
IBC2022 is only a month away! Are you coming to Amsterdam? We are eager to finally meet you in person again. Be our guest at our first own Booth 7.C15!   To book a meeting at IBC, click here  
READ
New Documentation and new Release 4.6.0
Today we even have two good news for you: 1. We have a new documentation platform!   We're thrilled that the Helmut4 documentation has found a new home! Our new platform consolidates a lot of existing documentation into a single, easily searchable location. Whether you're new to Helmut4 or just looking for information on how […]
READ